Variety Pack Systems
Variety Pack Solutions Your Way
Available in multiple configurations to package your variety offerings efficiently and reliably, Prisma systems utilize class-leading technology platforms with gentle product handling throughout the process. From simple systems with manual load infeeds to fully automated systems with high speed continuous motion packers, we integrate proven technologies in the ideal configuration for your application.
Prisma systems fully integrate three key elements for producing variety packs. These elements include the unloading and delivery of product flavors, the routing of empty supply trays and the final packaging of the variety pack.
Designed for your dynamic marketing needs with the unparalleled performance, reliability and support you expect from the leader in customer driven packaging solutions.
Cartons – Production capacity and variety pack flexibility to fuel your product's growth
Shrink Bundles – Help your product sell itself with attractive variety shrink packs
Cases & Trays – Offering product protection and brand enhancing graphics
Prisma manual unload stations: Enables personnel to manually unload flavor varieties, delivering product to flavor lanes that feed packaging equipment.
Prisma automated unloaders: Receives multiple lanes of supply product trays, unloads and delivers product to flavor lanes that feed packaging equipment.
Multiple variety pack system configurations available
Flavor unloading and delivery
Product unloading tailored to application needs
High throughput cartoning and shrink packing
Flexible intermittent motion cartoning and casing
Supply tray routing and repacking
Prisma manual unload stations: Enables personnel to manually unload flavor varieties, delivering product to flavor lanes that feed packaging equipment
Prisma automated unloaders: Receives multiple lanes of supply product trays, unloads and delivers product to flavor lanes that feed packaging equipment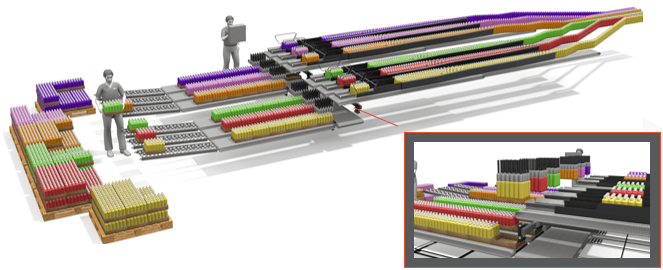 Empty tray discharge from the Prisma automated unloaders
Routing of empty supply trays to downstream packaging equipment for repacking with product varieties
Empty trays are routed for recycling or other uses if not being repacked
Specifications
Product Types:
Beverage cans – standard, sleek, slim and larger volume cans

Food cans

PET bottles – semi-rigid round bottles

System Flavor Unloading:
From 2 to 8 flavors delivered to the packaging machine infeed

Up to 6 manual unload stations

Up to 8 automated unloader supply lanes

System Retail Packaging:
Capable of producing 4, 6, 8, 9, 10, 12 (2×6), 12 (3×4), 15, 16, 18, 20, 24, 28, 30, 32 and 35 count packages depending on system configuration

Cartoning speeds ranging from 25 to 125 cartons per minute

Shrink packaging optimized for speeds of 30, 60 or 80 packs per minute

Case & Tray packing with intermittent and continuous motion machines covering speed below 40 and up to 80 cases per minute
Final packaging
Cartons
Production capacity and flexibility to fuel product growth
Select automation level based on production goals and budget
Moderate speed economical solutions
Intermittent motion cartoning up to 40 cpm
Optional pack pattern rotation expands flavor count capability
Maximize production with continuous motion cartoning solutions with speeds up to 125 cpm
Menu driven product selection simplifies changeovers
Shrink Bundles
Attractive shrink variety packs
The perfect combination of product visibility, package integrity and convenience
Shrink bundling with or without support pads and trays (new or reloaded supply trays)
Ease of operation and changeover and low package costs
Meets production needs from 20 to 100 retail packs per minute
Cases & Trays
Offers product protection and brand enhancing graphics
Excellent product and packaging material control provides high efficiency and enhances brand with exceptional package quality
Intermittent motion case packing up to 40 cpm
High throughput continuous motion case packing up to 80 variety pack cases per minute
Tray packing options include the repacking of flavor supply trays, saving material costs
Representative patterns only – many more available