Case & Tray Packer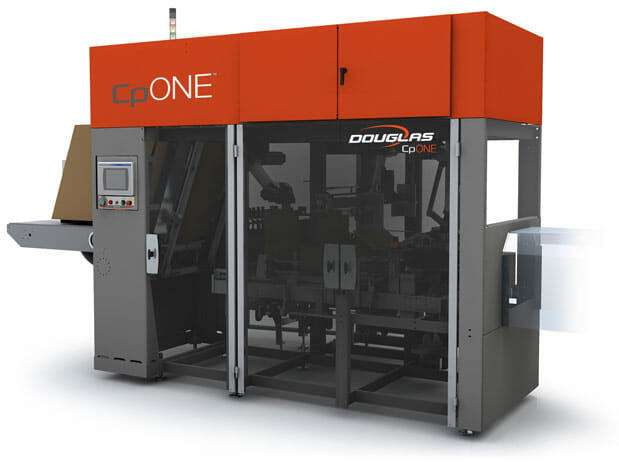 This Simplifies Everything.
To develop the patent-pending CpONE™ Intermittent Motion Case Packer, we leaned on new technology and over fifty years of product and material control experience. The result is next-level simplicity.
The CpONE leverages the development of more advanced mechanisms and engineered motion control. It smartly applies these advancements to improve machine usability and uptime. A key enabler developed and deployed into the heart of the machine is the robotic arms. Highly engineered to suit the machine's speeds and payloads, these arms are used within the case setup, loading and sealing sections of the machine.
The CpONE represents a step-change in simplicity and usability while maintaining reliability and proven performance. Simple operation. Simple maintenance. Simply next-level performance.
---
The resulting main machine configurations offer:
40% fewer parts
30-50% fewer lubrication points
45% fewer change points
---
Changeover features simplify and reduce changeover time
45% reduction in changeover points
Magazine bed and compression section height adjustments eliminated by robot's and mechanisms ability to adjust through recipe settings
Standard automatic adjustment of flap trap location, load funnel width, manufacturer's glue nozzle height and centerline height of minor flap guides and major flap glue nozzles; additional automatic changeover points available as options
Accessibility and ease of making manual adjustments
Performance as a foundation
Forming die case setup for wraparound cases is more tolerant of variations in corrugated materials
Pivoting major flap folding and compression with 8-corner case squaring for a quality finished product
Heightened visibility and ergonomic accessibility
Scalable drive platforms using servo motors and servo-pneumatics, or all servo motors
Maintenance made simple
Robot arms greatly reduce the number of bearings, linear bearings, belts, pulleys, tensioners, cable tracks, grease points and framework resulting in 40% fewer parts to maintain
Rockwell motors, drives, HMI and ControlLogix controller (no additional controllers)
Electronic 'hand wheel' jog function provides incremental jogging to setup or diagnose timing and material changes
Three-year limited warranty coverage of major machine components
Sanitary design
Added convenience features such as pivoting glue gun mounts provide easy access for maintaining glue nozzles
Speeds:
Up to 30 cases or trays/minute typical (application dependent)
Case Types:
Wraparound cases, knockdown cases (pre-glued manufacturer's flap) and trays
RSC, HSC or economy flaps
Minimum flaps: 2" (50.8 mm)
Maximum flaps: 6" (152.4 mm)
Minimum manufacturer's flap for wraparound cases: 1.5"
Case Size Range:

CpONE – 18″ index
Minimum: 4" (101.6 mm) x 3" (76.2 mm) x 6" (152.4 mm)
Maximum: 12" (304.8 mm) x 12" (304.8 mm) x 22" (558.8 mm)

CpONE – 24″ index
Minimum: 4" (101.6 mm) x 3" (76.2 mm) x 6" (152.4 mm)
Maximum: 18" (457.2 mm) x 12" (304.8 mm) x 22" (558.8 mm)

Direction of Travel x Vertical x Across Machine**
** Maximums may not be available in combination. 56″ (1482 mm) maximum blank height in magazine.
Frame/Finish:
Powder coated cold rolled bar stock, sheet, and tubular steel
Gray metallic, DuPont 616
Washdown options available
Magazine Capacity:
6' (1829 mm)
Glue System:
Nordson ProBlue®
Adjustments:
HMI selectable recipes, threaded screws, handwheels and hand knobs with position pointers and digital scales
Guarding:
Category 3 guarding
Full length 1/2″ acrylic guard doors (main machine) and clear polycarbonate
Electrical:
Rockwell Automation (AB) programmable logic controller, servo motors, drives and PanelView+ HMI
NEMA 12 wiring and enclosures, floor mounted (overhead mounted enclosure optional)
Washdown options available
Power:
480V, 50/60HZ, 3PH
Second 480V drop down for glue unit
Air:
90 PSI (6.2 bar)
Elegant use of technologies and components, along with product and package flexibility, the CpONE™ stands ready to be the solution of choice for many applications.