Tray Packers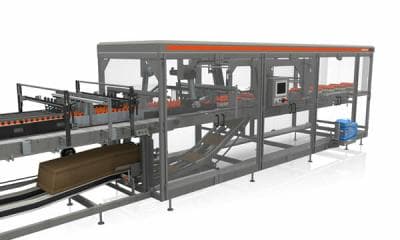 Enhanced Productivity through Simplified Operation
OPTX™ tray packers are available as stand-alone units or fully integrated systems with an OPTX shrink wrapper for tray-shrink applications. Capable of tray packing loose cans and bottles, cartons, and bundles, high performance handling of both products and packaging materials optimize efficiency.
Every element is designed to simplify operator and maintenance staff's ability to monitor machine operation and to ergonomically access the machine when needed. It's a design personnel easily adopt and take ownership of.
Speeds:

OPTX T-80: up to 80 cycles per minute
OPTX T-105: up to 105 cycles per minute

Single lane and dual lane tray packing solutions available
Stand-alone continuous motion tray packer or integrated with a shrink wrapper
Simple and repeatable changeovers
Specifications
Speed:
OPTX T-80: up to 80 cycles/minute
OPTX T-105: up to 105 cycles/minute
Product size range:
Minimum: 5″ (127 mm) x 3″ (76 mm) x 9.25″ (235 mm)
Maximum: 13″ (330 mm) x 12″ (305 mm) x 22″ (558 mm)
*Direction of Travel x Vertical x Across Machine
OPTX
™
T-80 & T-105 tray packers easily accommodate large size ranges for the food and beverage industries.