Multipack Paperboard Ring Applicators
Sustainable Beverage Packaging
Preference for environmentally-friendly packaging is expanding, and paperboard is an increasingly popular alternative to plastics. With NEXClip applicators, you can make the sustainable switch by applying recyclable paperboard multipack clips as a replacement to plastic rings or snap-on handles.

Achieve your green goals without compromising quality, safety, or simplicity.


Application solutions:
NEXClip MC-L and MC-S for loose products
NEXClip MC-T for trayed product
NEXClip MC-I integrated within tray packers
Replenish clip magazines while running
Choose your material supplier
Douglas NEXClip machines are not tied to single supplier material contracts or blank designs
Applicator portfolio to fit your needs
Create 4, 6, and 8-packs of bottles or cans
Applicator solutions for loose products, product in preloaded trays, and integrated with tray packing equipment
Narrow machine footprint
5-foot-wide main machine frames
Integrated model fits within the standard width of tray packer or tray-shrink machine
Infeed systems
Proven PET and can infeed systems applying Douglas' tray metering, product robotic pin metering, and selector bar metering technologies
Speed modularity
Single applicators for moderate speed lines
Dual applicators for higher speeds and/or redundancy
Clip prebreak station
Improved material and applicator operating tolerances
Reduced application pressure
Robotic applicators – Rockwell controls
Low maintenance: No gantry mechanisms or related bearings, belts, or lubrication needs
Tool-less simple changeover including pick heads, staging/prebreak platgorms, and application heads
Clip application verification and reject systems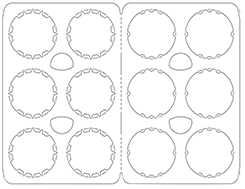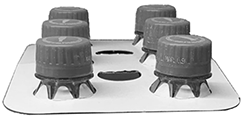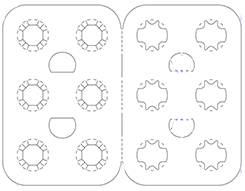 Optimized fit within existing lines
Ease of access and ergonomics for operators and maintenance
Single and dual applicators based on speeds required

Standard Rockwell controls and commercial components – no separate robot controllers
Fewer components, lube free. Robot(s) reduce need for belts, pulleys, chains, linear bearings, igus cable and hose tracks, and other components associated with gantry/Cartesian type mechanisms
Maintenance is reduced, operation is simplified, and reliability is enhanced
Quick-change applicator heads
Magazine capacity up to 1000 blanks (each)
Load blanks in one or both magazines while running to maximize production throughput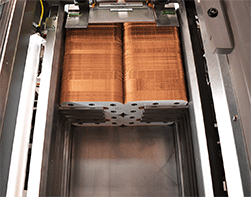 and
more
!