Case packing machinery
performs an essential function for secondary packaging of primary packages across all product industries—including food, beverage, pharmaceutical, home, personal care and more. Today, we'll be teaching you more about the different types of case packer solutions we produce here at
Douglas Machine
.
Why You Need a Horizontal Load Case Packer
The
CpONE
represents a step-change in simplicity and usability while maintaining reliability and proven performance.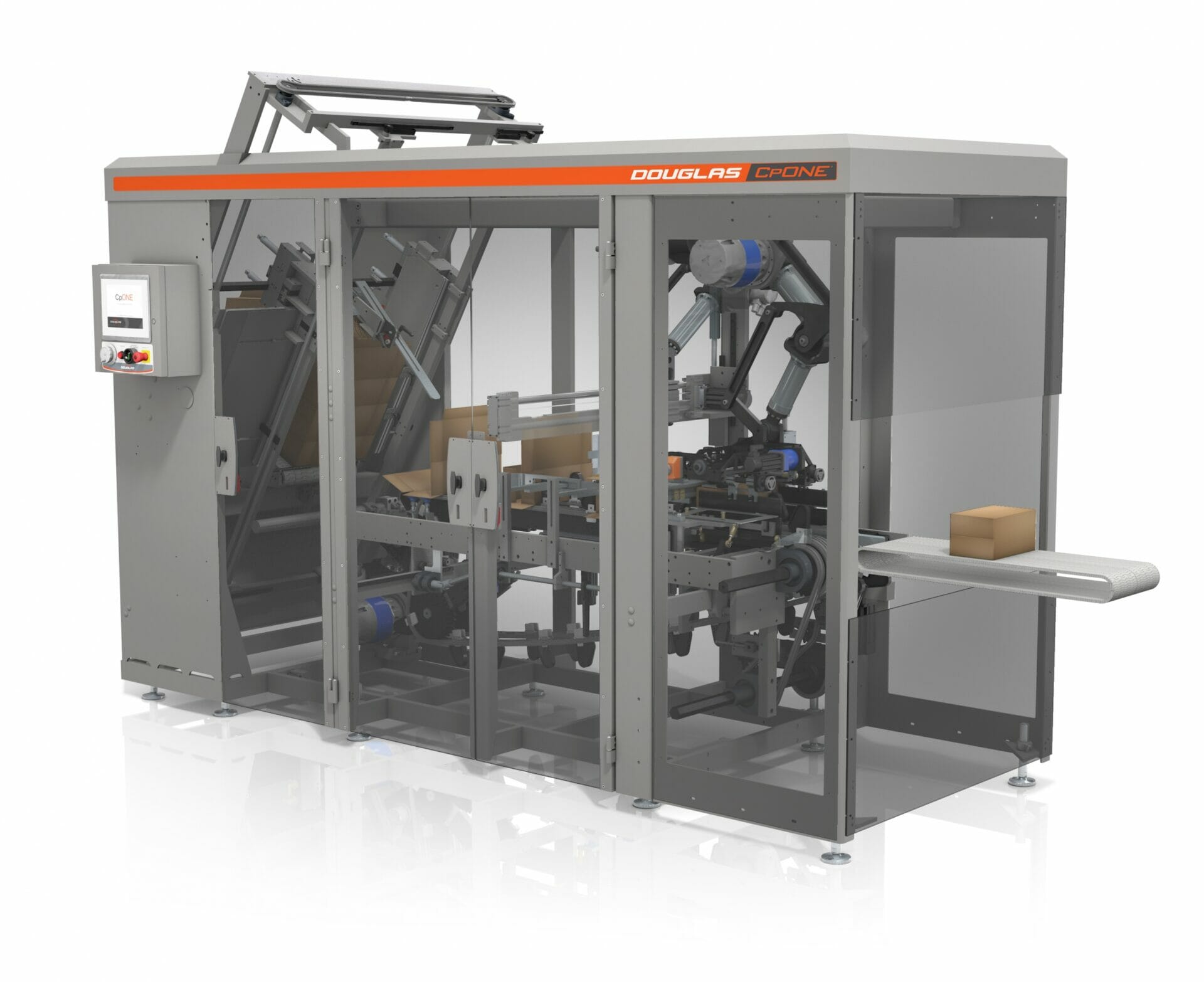 The CpONE case packer has 40% fewer parts, 30% fewer lubrication points and 40% fewer changepoints, making it simple to operate and maintain. From speeds of 5 to 45 cases per minute, and unmatched accessibility, this case packer simplifies everything.
When you need a high-speed case packer that provides gentle product handling, the Douglas
Axiom
®
IM
case and tray packer is the ultimate solution.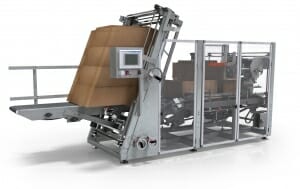 This intermittent motion case packer provides industry-leading speed and efficiency with the flexibility and adaptability to meet the most demanding applications at speeds up to 45 cases or trays per minute. Servo-controlled precision, open-frame modular design, innovative infeed technologies and simple menu-driven changeovers contribute to effortless adaptation in a compact, low-maintenance package. Custom inline, right angle or counter flow infeed and metering techniques are also available to provide efficient product handling.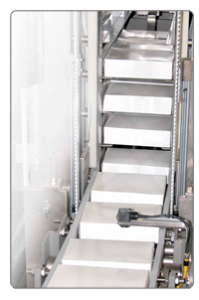 The Douglas Velocity
®
high speed stacker is available as an option to provide continuous product flow up to 600 products per minute while maintaining remarkable stability. Changeovers are simple and repeatable, and touch screen selectable product recipes automatically control precise adjustments throughout the machine. The sanitary frame design, stainless steel washdown options and compact footprint provides the ideal machine for your valuable production space.
The innovative continuous motion
Axiom
®
ARC
loader provides product containment across transfer points, making it a great solution for unstable products.

The Axiom ARC manages large size ranges and flexible, odd-shaped packages while controlling product through the entire load cycle. Servo functions reliably and accurately pack cartons, bottles, cans, jars, jugs and more using innovative infeed technology and high-speed case loading methods with precise product control at speeds up to 110 cases or trays per minute. The cases are preloaded, which allows the case to support the product during loading. This case packer provides gentle servo-driven product handling, precise flap gluing, folding and continuous motion compression with no flight chain camming, tool-less changeovers and a walk-in frame design.
The
Axiom
®
DL
continuous motion case and tray packer utilizes dual paddle metering to directly load product onto the case or tray blank.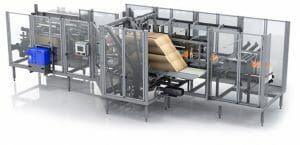 This metering minimizes unnecessary components to increase production efficiency. Servo functions reliably and accurately pack cartons, bottles, cans, jars, jugs and more using innovative infeed technology and high-speed horizontal case loading methods with precise product control at speeds up to 55 cases or trays per minute. This case and tray packer provides a large size range and simple, repeatable changeovers with a walk-in frame design.
The
Invex
®
IM
case and tray packer blends the perfect combination of technology and design to achieve high performance for mid-range case packing applications.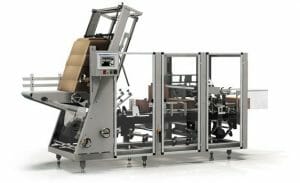 This intermittent motion packer is conveniently flexible and loaded with experience-based design, positive drive technology and control. A variety of infeeds and metering techniques are available for efficient product handling up to 25 cases or trays per minute. Touch screen selectable product recipes automatically control precise adjustments throughout the machine. This compact solution offers simple and repeatable changeovers, sanitary frame design and stainless steel washdown options.
Why You Need a Top Load Case Packer
Douglas top loading and product collation technologies ensure optimum interaction between product, packaging materials and machinery to create the most effective solutions for your application.
Packed with performance-enhancing technology, the compact
TriVex
®
RL & RLi case packer
offers automated robotic case and tray packing solutions to accommodate the unique demands associated with handling bags, pouches, cartons, trays, tubs, cups, cans, bottles and overwrapped products.

Maximized flexibility provides efficient loading of products into almost any style of pre-erected top load case or tray at speeds up to 25 cases per minute. Vertical and flat pack capabilities offer high-impact, retail-ready displays. TriVex RLi offers the unique ability to seamlessly erect, load and seal top load cases with one compact machine. Modular erector and sealer configurations include tape or glue, erect and load only or load and seal only. Innovative design features, advanced servo technology and simple menu-driven changeovers combine to accommodate a wide variety of product types with less product handling and less maintenance. These machines are an optimum solution for the high demands associated with three-shift production, frequent format changes and high efficiencies.
The
TriVex
®
SL & SLi case packer
is the simplest retail-ready case packer on the market.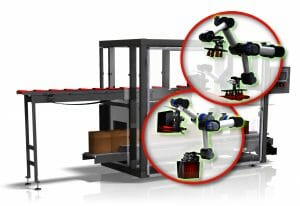 This versatile robotic top load case packer meets market needs for lines requiring products to be packed vertical in the case and lines requiring both vertical and flat pack product orientations at speeds up to 25 cases per minute. Vertical pack configurations produce retail-ready display cases with one or two product facings. Flat bag handling and pattern containment optimize case loading with no vacuum and no gantry pick-and-place components. With a quick and simple changeover, this machine packs pouches and flat bottom bags laying flat in the case with two or three products per layer. A dual SCARA robotic solution uniquely combines the functionality of a product infeed, pack pattern collation and case loading functions into one mechanism. The TriVex SL & SLi's compact footprint offers fewer components, reduced maintenance and unparalleled machine accessibility with easy setup and changeover to optimize uptime.
As the heavyweight champ of product versatility, the
TriVex
®
CLi
case packer is ideal for Individual Quick Frozen (IQF) products such as non-free flowing frozen potatoes and vegetables, as well as pillow and gusseted bag product applications requiring flat and vertical bag orientations.

The integrated case erector, upright and flat pack flexibility and large size range meet market demands for case packing both retail and food service bags. The convertible cassette pivots to easily reposition to horizontal or vertical mode, which reduces parts and changeover time. Multi-bag collation and loading in the direction of travel (DOT), across machine (AM) and vertically manages bag conditioning and pack pattern density. The CLi features a bag conditioner with loose product eliminator and collection, as well as a vacuum table to reduce air in perforated bags with vacuum ports adjustable to bag width. This solution also includes a product placement conveyor (PPC) lane divider, including shingling without disturbing the bag shape or pre-conditioning (AM pattern collation only) and transpositing conveyor including shingling with minimal product disturbance (DOT pattern collation only). This case packer runs at speeds up to 70 bags per minute/15 cases per minute, is 40 pound pack pattern capable, and ensures product quality by maintaining product shape and condition throughout the packaging cycle.
Why You Need a Bottom Load Case Packer
The compact footprint, pre-load product collation, smooth case loading and use of bottom load RSC cases provide an automated alternative when top loading is not a suitable option.
The
Ascend

™
bottom loader is a compact, fully automated machine designed to load flexible and/or complex shaped products into cases.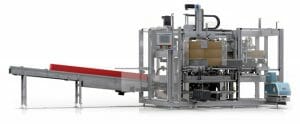 Best suited for heavy products such as tubs, jugs, bottles and cartons, the Ascend will meet your specific packaging requirements and deliver the ideal solution for your low-speed packaging needs. Designed for efficient sanitation, this compact footprint case packer offers a variety of infeeds and metering techniques for gentler product handling than drop packers at speeds up to 15 cases per minute.
Get Your Case Packer From Douglas Machine
The need for a new case packer may come from many different sources. It may be to replace an aging, high-maintenance machine—or it might be driven by new packages, higher line speeds, efficiency initiatives, new packaging requirements or Return on Investment (ROI) calculations versus manual packaging.
Once you've identified the need for a case packer solution, turn to Douglas Machine and receive total commitment to exceeding your expectations. We will partner with you to provide a high-quality case packer customized for your application. Our employee owners will provide you with friendly, responsive service and uncompromising customer support from the start of your experience through the life of your machine.
Contact us
today to learn more about Douglas Machine and how we can position your organization for success.