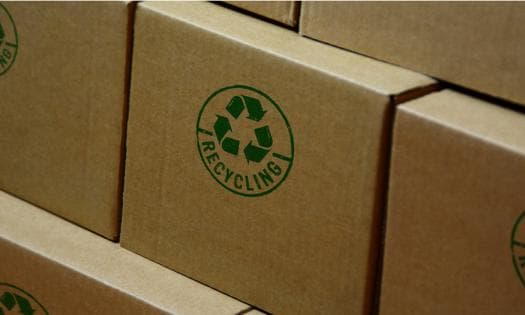 Sustainability is playing a more prominent role in corporate branding and imaging. While primary packaging is playing a key role for consumer packaged goods, a number of brands are interested in sustainable secondary packaging solutions.
A growing demand for sustainable packaging
According to 
PMMI's report, Packaging Sustainability: A Changing Landscape
, the sustainable packaging market is expected to increase to $280 billion by 2025, from $220 billion in 2018. This means the market is sure to see an increase in packaging that is recyclable, compostable and otherwise defined as green. In the secondary packaging space, that can mean more paperboard created from 100% recycled materials, new types of recyclable stretch wrap or engineering new palletizing solutions that minimize packaging while preventing damage during shipping.
What does it cost to go green?
When brands are looking to spruce up their image by going green — or scrambling to meet new green initiatives handed down by retailers — that means taking a closer look at their end-of-line machinery. Though sustainability and eco-friendly packaging are great for branding, they're also perceived as costly. Some 64% of companies cite higher costs as the top barrier to adopting more sustainable practices, according to PMMI. Considering that 1 in 4 consumer packaged goods (CPG) manufacturers interviewed for the PMMI report said they planned to make machine upgrades or modifications to address their packaging sustainability goals, it's easy to see why it can be difficult to go green.
What does sustainability mean for end-of-line packaging?
Here's a look at some of the top end-of-line considerations when it comes to waste reduction and sustainable packaging initiatives:
Ensure that corrugated containers with less virgin fibers will not create issues with case erector and sealer adhesive not sticking to recycled fibers. Invest in secondary packaging machines with a broader tolerance range.
Conduct studies to determine the ROI of upgrading secondary packaging machines to accommodate the sustainable formats and sizes.
Contact your secondary packaging supplier to determine if existing packaging machines can be adapted to accommodate packaging reduction strategies such as reusable trays or lightweight cardboard.
Research palletizing/bundling solutions that allow for the elimination or reduction of corrugated materials to ensure the product will not be more subject to damage in transit.
End-of-line sustainable solutions that balance cost and waste
According to the Flexible Packaging Association, 67% of brand owners said they put more effort into sustainability in 2019. When it comes time to design sustainable solutions that balance cost and function, it's critical to work with a secondary packaging equipment company that has experience in all facets of secondary and tertiary packaging.
The solution to reduce variety pack waste
When it comes to sustainability solutions and slashing waste, variety pack packaging often is top-of-mind for many companies, says Todd Welker, Beverage Sales Manager for Douglas. Variety pack packaging has grown in popularity to meet consumer demand as well as retailers' just-in-time principals. But CPG makers want to curtail the astonishing amount of waste that comes from unpacking single case products to be repackaged into a mixed case. The first step in solving the packaging waste issue is investing in a variety pack system. Still, the standard solution doesn't completely eliminate packaging waste, but Welker talks about how Douglas helped a large beverage producer that was interested in doing something about that:
This beverage company wanted to eliminate the need to pack the bottles into single-use 24-count corrugated trays before feeding the bottles into Douglas's Prisma™ variety pack system variety pack system to be repackaged into 12-, 18- and 24-count variety packs.
The solution to the corrugated trays was to deliver the bottles in reusable plastic shells.
Despite being put off by the high costs, an analysis showed the ROI of the reusable shells was much greater than discardable corrugated trays.
Experienced packaging solutions to meet your unique needs
For companies looking for sustainable solutions, Douglas brings over 55 years of experience designing custom secondary packaging for cartons, pouches, bags, cans, cups, jars, bottles of all materials and more. "We have seen what works and what does not work in the supply chain in the marketplace, and our customer base can draw on those experiences," Welker says.
Get in touch
 with a Douglas team member now to learn more about how our line of innovative secondary packaging solutions can be completely customized to your unique needs.