Unparalleled Technical Support
Available 24 Hours a Day, 7 Days a Week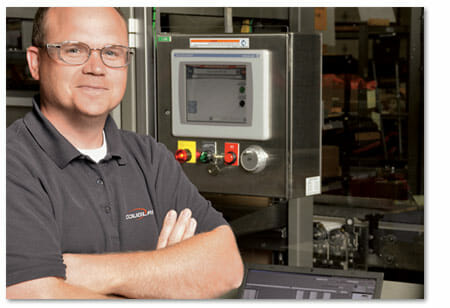 Douglas Technical Support provides unparalleled in-house, field technical support. Available 24 hours a day and 7 days a week, our experienced technicians provide you with superior knowledge and quick, clear responsiveness.
Field Service, Regional and Remote Support provided for Douglas equipment is outlined below.
Telephone:
1.320.763.5507
Fax:
1.320.763.9666
Email:
service@douglas-machine.com
Douglas COVID-19 readiness & response: For detailed information regarding Douglas Remote Technical Support options, and to learn more about Douglas' response & readiness, visit douglas-covid19-response.com.
Brands & Equipment We Support:
Contact us for your support needs on equipment branded Douglas Machine, APV Douglas, APV Rockford, AccuLift, Davis Engineering, Douglas/Davis and Dimension Industries.
Case & Tray Packers | Shrink Wrappers | Sleevers | Cartoners | Multipackers | Palletizers
Field Service Support:
Field Service Technicians are an integral part of Douglas. Trained with a combination of classroom, hands-on and on the job training, our Field Service Technicians manage on-site installations, repairs, maintenance, testing, error diagnosis, technical problem solving and determine proper solutions.
Cross-trained in mechanical, electrical, and programming
Equipped with the latest portable computers and remote software
Available for preventive maintenance, machine surveys, machine modifications and routine or emergency service work
Regional Technical Support:
Douglas' Regional Technical Support program was established in 1998 to provide local and immediate support by strategically locating technical support technicians. These technicians are familiar with a variety of Douglas products and have skills to provide:
Support for emergency issues
Routine maintenance
Audits
Training
Courtesy visits
Remote Technical Support:
Many of our customers are working hard to keep up with surging demand. Our Technical Services team has been hard at work leveraging existing remote service support capabilities and developing new ones – all with an eye toward saving you time and costs.
The remote support capabilities and offerings listed below are available to our customers. Contact Douglas Technical Support at 1.320.763.5507 or service@douglas-machine.com for additional information and assistance.
Zoom


We've expanded our investment and utilization of Zoom, one of the world's leading web conferencing solutions. With access to fully equipped ZoomRooms and to individual service support personnel, customers can engage Douglas experts. This engagement takes place in a virtual support environment via voice, video, chat, screen shares, and live annotations – all with the simple click of a Douglas-provided link. To ensure hassle-free connection and engagement, Zoom work instructions are also available.

Ewon


Ewon is a full end-to-end remote access router that allows our technical experts to access your machine's diagnostic information via a simple and secure connection. Specifically, Douglas utilizes the Ewon Cosy 131 Router. No IT configuration tools or command-line skills are required to implement and/or utilize this highly secured, ISO27001 and STAR certified product.

For customers who already have machines with Ewon routers, Douglas will provide work instructions to guide the interaction and ensure a smooth connection with a member of our Technical Services team.

For customers that do not have machines equipped with an Ewon router, kits are available that enables Ewon connection. This kit includes everything you'll need to get up and running with a remote connection to a Douglas technician.

For more information on Ewon, please visit their website or contact your Service Advisor.

TeamViewer
For secure remote PC access and support, Douglas can also deploy TeamViewer. Like Ewon, TeamViewer allows Douglas technicians to do more than just show and tell, it allows qualified Douglas personnel to guide and direct a customer's PC when connected to a machine's controller and its diagnostic information. Complete work instructions are available for TeamViewer download, install and use.
VPN
For those customers that prefer to maintain control of network access, Douglas can also connect and engage through Virtual Private Networks, or VPNs. This option allows all of the benefits of Ewon and/or TeamViewer, plus the added sense of security that comes with controlling the means of access to your network.