Unparalleled Technical Support
Available 24 Hours a Day, 7 Days a Week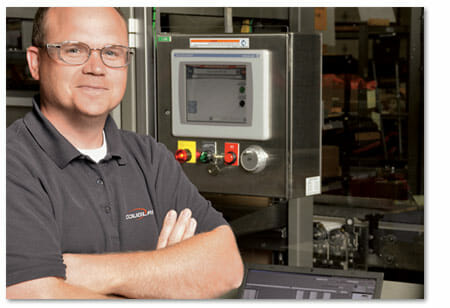 For Douglas Machine, APV Douglas, APV Rockford, Davis Engineering, Dimension Industries, and AccuLift branded products.
Douglas Technical Support provides unparalleled in-house, field technical support. Available 24 hours a day and 7 days a week, our experienced technicians provide you with superior knowledge and quick, clear responsiveness.
Telephone: 1.320.763.5507
Fax: 1.320.763.9666
Email: service@douglas-machine.com
Support For:
Case/Tray Packers
Shrink Wrappers
Sleevers
Cartoners
Multipackers
Palletizers
Equipment branded Douglas Machine, APV Douglas, APV Rockford, AccuLift, Davis Engineering, Douglas/Davis, Dimension Industries
Field Service Support:
Cross-trained in mechanical, electrical, and programming
Equipped with the latest portable computers and remote software
Available for preventive maintenance, machine surveys, machine modifications and routine or emergency service work
Regional Technical Support:
Douglas' Regional Technical Support program was established in 1998 to provide local and immediate support by strategically locating technical support technicians. These technicians are familiar with a variety of Douglas products and have skills to provide:
Support for emergency issues
Routine maintenance
Audits
Training
Courtesy visits