Bottom-Load Case Packer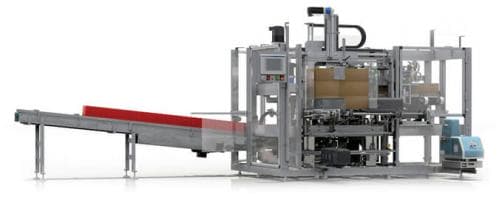 Performance and Efficiency from Top to Bottom
The Ascend™ Bottom Loader is a compact, fully automated machine designed to load flexible and/or complex shaped products into cases. Best suited for tubs, cylindrical and heavy products, the Ascend will meet your specific packaging requirements and deliver the ideal solution for your low speed packaging needs.
Speeds up to 15 cases per minute
A variety of infeeds and metering techniques for efficient product handling
Simple and repeatable changeovers
Powder coated steel frame construction
Designed for efficient sanitation
Compact footprint saves valuable floor space
Fast, repeatable changeover feature offers multiple enhancements.
Changeover time – significantly reduces time to less than 5 minutes (time of changeover is dependent on extent of changeover)
Repeatability – rail positions are recipe-driven and locked in place to within +/- 1/32″
Flexibility – ability to place lanes where desired as opposed to centerline or fixed side adjustments and more customer options for generating product-specific recipes
Durability – infeed rail's holding force can withstand high product pressure
Ergonomics – minimizing manual adjustments maximizes efficiency and promotes safety in the work environment