News Release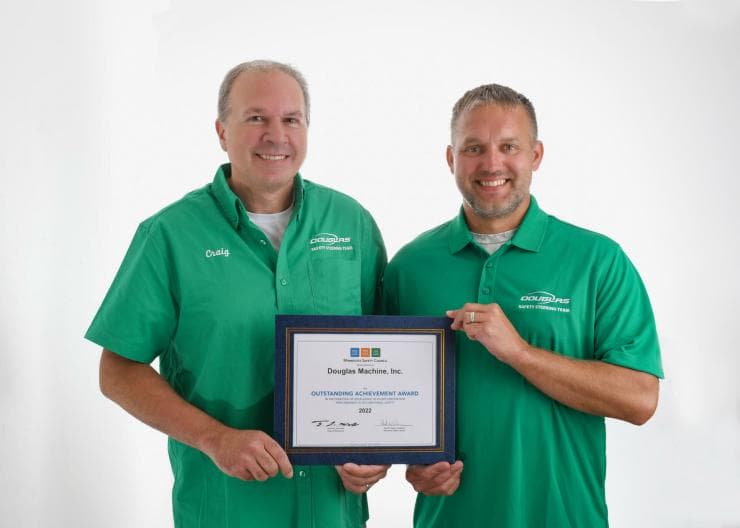 FOR IMMEDIATE RELEASE
ALEXANDRIA, MN (June 22, 2023) – Douglas is thrilled to announce that it has been honored with the prestigious Governor's Award for Outstanding Achievement in Occupational Safety for the fourth year in a row. This remarkable recognition is a testament to the company's unwavering commitment to maintaining a safe and secure working environment for its employees.
The Governor's Award for Outstanding Achievement in Occupational Safety is bestowed upon organizations that have demonstrated exceptional dedication to workplace safety practices and have implemented innovative measures to ensure the well-being of their employees.
"We are incredibly proud to receive the Governor's Award for Outstanding Achievement in Occupational Safety," said Craig Mast, Director, EHS for Douglas. "Ensuring the safety and well-being of our employees has always been a top priority for us, and this award is a testament to the hard work and dedication of our entire team."
With a strong focus on occupational safety, Douglas has implemented comprehensive safety protocols, training programs, and state-of-the-art equipment to minimize workplace hazards and promote a culture of safety. Their commitment to continuous improvement in safety practices has played a significant role in achieving this prestigious recognition.
The award was presented during the 2023 Minnesota Safety and Health Conference held at the Mystic Lake Center in Prior Lake.
To learn more about Douglas' range of innovative secondary packaging solutions, visit their website at douglas-machine.com. To explore career opportunities and learn more about their culture and dedication to safety, visit workatdouglas.com
ABOUT DOUGLAS
Founded in 1964, Douglas is a global leader in automated secondary packaging solutions for paperboard, corrugated and shrink film. The company specializes in the design and manufacture of case and tray packers, shrink wrap systems, cartoners, multipackers, sleevers, and variety pack systems. Based in Alexandria, Minnesota, Douglas is an employee‐owned company that has installed more than 13,000 machines in 30+ countries.
Email Douglas Marketing at
updates@douglas‐machine.com
or visit
douglas-machine.com
for additional information on the company and information contained in this release.
For media inquiries or more information, please contact:
Sara Hoidahl
Marketing & Communications Manager
Douglas Machine, Inc.
sara.hoidahl@douglas-machine.com