Robotic Palletizing Systems
The Missing Piece to Complete Your Packaging Line
Designed to be integrated with Douglas packing and cartoning equipment, the Stratum® completes your packaging process from start to finish. This robotic palletizing system dispenses and conveys pallets, meters cases on the product infeed plus utilizes robotics to palletize cases and apply slip sheets. Take the next step towards seamless integration and add the finishing touch your customers have come to expect.
Runs up to 40 packages per minute
Pick and place of single, multiple cases, or rows
Capable of single-in/single-out or multi-in/multi-out configurations
Multiple robot models available based on application requirement
Slip sheet rack
Design configurations optimize robot utilization, case handling and pallet handling
Allen Bradley HMI interface
Guarding fence and light curtain discharge
Optional integration of third party stretch wrapping equipment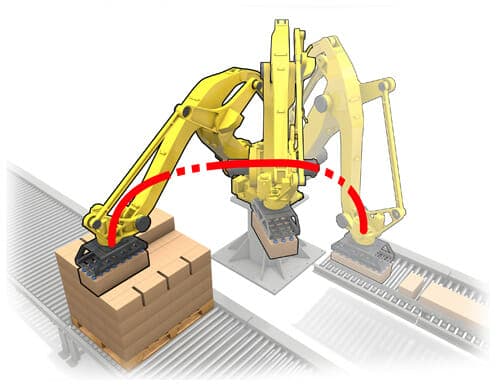 The end of arm tool is designed to accommodate various case sizes along with multiple quantity options. The cups can be customized electronically to the product being run. This design eliminates the need for physical adjustment.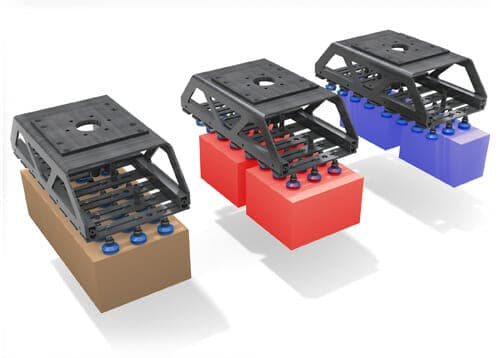 Douglas designed and built the pallet dispenser to increase runtime and system rate capabilities. The dispenser holds 12-15 pallets and the magazine can be reloaded while the machine is running.
The pallet magazine dispenses pallets onto a conveyor at a rate of up to 90 pallets per hour. To increase performance dependent on environment, the dispenser works with a conveyor on either side or out the back.
This system is automatic, eliminating the need for the operator to manually intervene with each pallet. It is also capable of handling pallets with broken boards or defects.
Having its own HMI offers great flexibility and increased functionality by being a stand-alone unit with its own start/stop capabilities.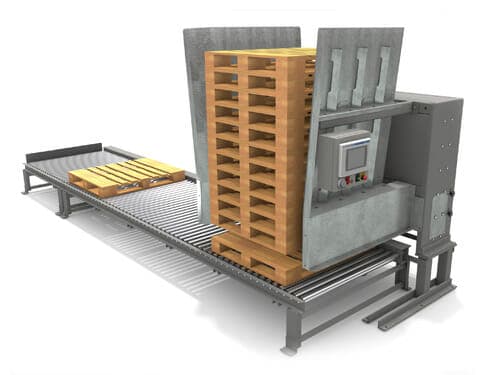 Specifications
Product Rate:
Up to 40 cases/minute
Size Range:

(application dependent)

Minimum (guideline): 4″ (101.6 mm) x 3″ (76.2 mm) x 6″ (152.4 mm)

Maximum (guideline): 17″ (431.8 mm) x 12″ (304.8 mm) x 22″ (558.8 mm)

* Direction of Travel x Vertical x Across Machine

Pallet Styles:

Capable of running custom pallets upon request

Pallet Patterns:

Determined using Fanuc Roboguide software
Pallet configurations are customizable per application.